Are you currently a shop owner using Interspire Shopping Cart and due to the lack of official updates thinking about migrating away from Interspire to another platform but wish you could keep using Interspire?
Then we have the solution for you! Save thousands and months of painstaking work. You don't need to spend a mountain of resources retraining staff to use a new system, adding your product data in all over again and re-coding your custom modifications on an unfamiliar platform. Save your staff, your developers and your wallet by keeping Interspire Shopping Cart and allow us to provide a decades worth of work to your cart so you can continue doing business as normal for a fraction of the price.
Start by allowing us to breathe another 5-10 years of use out of your shopping cart right off the bat. That is only the start though. We can help improve SEO rankings, improve sales and conversions, automate processes, save you and your staff countless hours of time and improve the overall customer experience of your store. 
Contact us for a risk free assessment of how we can help you!
Please check out our completely re-worked and highly maintained Interspire Invelo Edition @ https://www.invelo.com.

Looking for modules, add-ons for your existing store? Check out some of our previous work at http://modirific.com/. If we don't have what you need listed, we likely either have it in our archive, or have something like it that could be quickly modified to suit your needs. Or we can create something from scratch just for you.

Looking for a developer to help you turn the Interspire Shopping cart into a perfectly tailored shopping cart for your business? Or simply looking for help with Interspire Email Marketer? Well you have found a group of people who are experienced, qualified and eager to help you get the most out of your Interspire software to help your business success.Feel free to contact me @ dustin@thinkgenius.com right now or use the contact form below.
If you use Interspire Shopping cart and are looking for highly experienced developers, graphic designers, front end developers, template builders, branding experts, content creation teams, SEO, off-site SEO, free and paid marketing management, automation focused development experience and most important someone who understands the Interspire Shopping Cart platform inside and out then you should look no further! My name is Dustin Holdiman (View my LinkedIn Profile) and I am a senior software developer who has spent years working with hundreds of sites, dozens upon dozens of companies all of shapes and sizes, under all sorts of scenarios and I am here to help you and your company.
Need more?
What about a team with a long and proven history of working with almost all the major e-commerce platforms? Need consultation? Guidance? Training? With our pristine record and massive list of references and happy clients, you can feel safe and assured your working with the right people! Don't believe us, give us a call and see if you like what you hear.
We have been going the extra mile for our clients for over 8 years. We can transform anything and everything that comes prepacked in the Interspire Shopping cart to fit your specific needs. We can work with your existing setups and your existing modifications. Upgrade and fix broken items and even offer you a completely updated version of Interspire packed with dozens of sophisticated add-ons, 3rd party API fixes, payment processor upgrades, ease of use tweaks and new full blown feature rich functionality that will add years to your cart. It's free to contact us so what do you have to lose? I personally am happy to talk to anyone interested in custom development and help them achieve their goals.
---
A list of our more popular add-ons and optimizations:
Abandoned Shopping Cart Recovery – Send automated emails to customers who abandoned their cart. Get back lost sales!

Additional Product Tabs – Simply be able to create custom product tabs and populate them with any content you wish.
Updated Authorize.net Payment Module
Authorize.net CIM Payments – Saved CC Profiles safely using tokens instead of credit card data and avoid the need for expensive PCI compliance. Customers can save their credits cards for future purchases, allowing you to bill from the back-end and allowing them to checkout as easy as one click.
One Click Checkout for existing users – Feature available when using Authorize.net CIM payment module modified to support saved credit card profiles.
Gate2Shop Payment Module
Updated PayPal Payment Modules
Bin & Reserve Locations – For easy fulfillment, mark the location of your products in your warehouse and print them out on your pick slips.

Canned Customer Responses – Using the in cart communication system for new orders, save common responses for your customers. Using this mod you will be saving time and allowing for easier and faster communication. This overhaul also includes a much easier to read history of all communication with the customer, which both the admin user and the front-end customer benefit from.

SEO Package with Custom URLs w/ Automatic 301 redirects and schema.org compatibility (Must have) – This package automatically re-structures your URLs to be SEO friendly to today's standards while adding in much needed schema.org support into your site. Schema.org allows for you site to point to vital information, allowing the search engine robots to quickly identify key elements about products and so forth.

Google Merchant Center Variations Feed for Interspire – Fixes the integration with Google Shopping, adding many new features such as variation support and schema.org compatibility.

USPS / Endicia Shipping Label Creator for Interspire
FedEx Shipping Label Creator for Interspire
UPS Shipping Label Creator for Interspire
RocketShip.it Integration
Interspire Shopping Cart Banner / Slider Manager – This easy to use add-on will help you manage banners site wide. From your home page to your category pages, use a simple back-end add-on to upload content, drag and drop sort order support, timed events (set up banners to appear and remove themselves at a certain date / time automatically).
Inventory Updater Add-on – A highly configurable product inventory updating tool to help you keep inventory levels in track by uploading simple CSV files.
Multi-box Shipping Quotes – Get accurate quotes for products that require more than a single box. Flag products as products that always ship alone. Create smart logic based on your shipping provider options, rates, product and box dimensions and more. Get accurate shipment quotes, apply all or part of your negotiated rates toward lowering shipping costs and track your profit and losses due to outbound shipping in real time.
Add Multiple Products to Cart – Want to sell a group of products? Or to be able to email a link that will automatically populate a customers shopping cart with more than one product at a time? This makes that possible. You can even build out entire orders containing hundreds of products with varying quantities and variations and allow for your customers to easily queue them up with a single click.
Product Up-sell Management – Do you sell products that have other products that have supporting products, or products that often are sold along with other products? With this add-on you can define those products and one the product page the customer can add multiple items to the cart all with one click. For instance, if you sell apparel and have a dress available in 7-8 colors and list them all as individual products, you can link them together (even automatically if the SKU structure is similar) so the customer can quickly navigate between all of the options. The applications for this type of feature have been extremely valuable to every client that has used this feature. Customers love it, store owners love it, so everyone wins.
Variation Group Up-sell Management (Add multiple variations to cart at once) – View Screenshot here!
Bulk Discounts for Variations – Enable the ability to add bulk discounts to products with variations. Something that is currently not possible.
Voucher Management System – Enable the redemption of products using voucher codes provided by services like Groupon. If you sell your product on a service like Groupon, this is the system that will make the management of such a task not only easy and safe from abuse, but allow you to get your product out the door to your client as quickly as possible.
Loyalty Reward Point System – Allow customers to earn points based on purchases made over time and reward them by allowing them to redeem those points for products on your site. There is no need to create special categories or spend a great deal of time setting up pricing. The system is easy to use, simply to deploy but also allows for almost indefinite control of how to want to control the acquisition of points and how they are redeemed. There is a Opt in and Opt out function for customers who don't wish to use the system.
Robust Reporting – Any report you can think of we can build. Want to see your consumption levels to help make re-stocking easier and more effective? Don't get caught without inventory ever again! Want to see the effects of sales on your average order total, net profits and gross sales? Do you pay off affiliates perhaps? Want to know the true profitability per order? Robust reporting is the key to make this happen.
Updated ShipWorks Integration (2017)
Social Coupons / Referral System – Give your customers an extra incentive to share the word with friends and make it easy and rewarding for them to do so.

Real time Staff Shipment Reports – View the complete progress of your fulfillment staff in real time from your mobile device or the admin panel. Keep track of who created which shipment and when. Make sure none of your employees are wasting time or money by printing off labels for personal use.
Blacklist Module / Add-on – Keep trouble makers from making phony orders and highly increase your ability to prevent charge backs from happening!
Automated Product Management – Pulls data from manufacturer and mass adds / manages your products.
Automated Competition Pricing Monitor – Custom tailored based on your direct online competition to automatically check the prices of products and compare that price against your own. With multiple updates daily you can keep an eye on your competition. Automatically match prices and set limits for price reduction for a complete hands off approach or simply view the results and use our tools to adjust your rates accordingly.
Amazon Product Watcher – Generate massive reports based on sales data from Amazon's MWS API regarding product availability and pricing for as many products as you choose to add. Notice trends, opportunities and keep competitive by utilizing the tools out there to help you make the best decisions possible.
Mass Category Creation – Starting a new store or migrating from another platform? This tool allows for your to import category structures from a CSV file or clone the structure of categories from other websites. For instance, if you are selling car parts, you could require 100s of thousands of categories depending on what type of parts you sell. To manually create the category structure through the back-end interface would take 100s of man hours. With this tool it can be accomplished in mere minutes.
Complete Multi-box Shipping Quotes & Label Creation – Don't deal with 75lb – 150lb weight limits that stop you from making a sale. Use our completely custom tailored quote and fulfillment system to effortlessly handle shipping. Define products that always ship alone, handle single orders that require multiple shipments without any effort needed. Print labels, create shipments, send tracking numbers to the customer all with a single click from the admin panel. No 3rd party software needed. View real time statistics for large shipping operations.
Custom Reports – If you can think of it we can do it. Reporting is vital and often times simple sales stats are not enough. Allow us to build you reports that help you make choices on what to order, when to order and what to sell.
Here is an older list of some of the add-ons and modules we have created for Interspire that are available today (just contact me if you want something, changes are I have it already built or can build it pretty quickly (this is really old but important for my blogs SEO for please look past the simple layout and crude graphics)):
Voucher / Coupon Add-on w/ Verification Portal
This modification allows you to create Vouchers / Coupons that get automatically generated by select products you can configure in the back-end administration panel in seconds.
The vouchers generated can use any graphic or HTML layout and automatically place the voucher number created (the algorithm used to generated the voucher numbers is configurable) onto the graphic to be printed by the customer. The add-on also supports bar codes if needed. You can dynamically generate vouchers with the Vendors name, include a description of the product the voucher was generated for (such as 1 Spa Treatment or 1 Free cup of coffee redeemable by the Vendor the product is associated to). The voucher can include any information you need displayed and will even automatically generate expiration dates (which are configurable as well).
I have also created a verification system that allows vendors to browse to a URL and simply type in the voucher number to verify that it is valid and has not been used. The system doesn't check to see if the voucher has a valid format, it checks a database to make sure the coupon was generated and associated with a valid order. If the voucher is valid the vendor can mark the voucher as used to prevent customers from sharing the vouchers. This setup allows you to be sure that no one will be able to take advantage of the system by generating fake coupons / vouchers.
This add-on can be configured anyway you need it to work for your business. The client who initially requested this add-on is using it to sell various packages from vendors in the local area. If you are utilizing a bar code system the module can be configured to work with a wide variety of setups.
When a purchase is made that will create a coupon the order confirmation email contains a link to allow the customer to print the coupons. An additional email is also sent containing just the vouchers for quick and easy printing. If the voucher needs to be reprinted at anytime the customer can simply log into their account and view their order history. From the customers order history screen they can also print any vouchers generated with that order.
Recurring Billing / Subscription Support
This addon which allows you to accept recurring payments with Interspire Shopping Cart! Currently, the module works with Authorize.net but I can easily add support for any payment processor currently supported by Interspire.
The addon currently supports the ability to choose which product you want to set for recurring billing as well as the length of the billing cycles. Customers have the ability to view all current subscriptions, records of each payment and they have the option to cancel their current subscription. When the time comes for a bill, the addon will bill the customer and in the backend of the cart the order will appear in the orders page. The customer also will receive an email notifying them that their product has been purchased.
FedEx / UPS / USPS Integration Add-ons
These Integration Add-ons for Interspire is aimed to alleviate the monotonous task of duplicating data entry to and from the shopping cart and various shipping providers.
When utilizing any of these shipping Integration Add-ons this process is simplified to a single click. Any item(s) that are currently in the "Awaiting Fulfillment Status" are processed.
UPS Integration Add-on
1) Description of the Integration Add-on
The UPS Integration Add-on for Interspire is aimed to alleviate the monotonous task of duplicating data entry to and from the shopping cart and UPS.
When orders are placed into the cart and the funds have been received, items are placed into an "Awaiting Fulfillment" status in the administrative backend of the shopping cart. At this point under normal circumstances, the information entered by the customer, such as address and method of shipping need to be entered into the UPS Online Tools via the management console provided at ups.com. After the information has been entered into UPS and verified, the shipping department is then required to go back to the administrative backend of Interspire to enter the tracking number generated by UPS, then update the items status to "Awaiting Shipping".
When utilizing this UPS Integration Add-on this process is simplified to a single click. Any item(s) that are currently in the "Awaiting Fulfillment Status" are processed. (NOTE: The UPS Shipping Tools API does NOT come by default when a shipper signs up for UPS Online Tools. This tool is a premium tool that has to be requested by the shipper. Verification can take up to 48 hours before an access key will be supplied.)
2) Utilizing the UPS Integration Add-on
After the add-on has been installed, the add-on needs to be activated. In the upper right hand corner of the administrative backend simply click Addons > View Addons.
(This is a view of the add-ons settings page that you will see)
Simply click the UPS Integration Link then click "Save". Now you can access the UPS Integration Menu next to General Settings.
Simply input your UPS login information and click "Save". Now the add-on will appear in the Orders menu.
(Location of the add-on in the backend administration console of Interspire)
(Once clicked you will see the following screen)
Once the shipping department browses to the UPS Integration Add-on,  the add-on will search all the records in the database and display the number of items currently "Awaiting Fulfillment". Once the "Get Labels" button is clicked all of the orders are then submitted to UPS Online Tools. The addresses are verified against UPS to ensure accuracy. Then the tracking numbers are generated and orders are entered into the system at UPS. If there is an error with one of the orders then add-on will instruct you which order has an error and tell the user what the error was (e.g. Incorrect Address, Invalid Phone Number, etc.)
As soon as the add-on has finished processing all labels will automatically be sent to the Thermal Printers queue and be printed off in bulk. The status of successful orders will be changed in the backend to "Awaiting Shipping" and the tracking numbers will be automatically entered into the backend of the shopping cart. At this point the customer is then emailed with their tracking number and status of the package. The shipping department simply needs to package up the items ordered and apply the label from the thermal printer and UPS will pick up the parcels at the next designated pickup time.
Drop-ship Integration API / Sell products & manage orders on remote sites
The API allows storeowners to utilize a single installation of Intespire to manage products and orders across multiple storefronts regardless of the platform being used on the other sites selling the products. The API is also designed to run by utilizing Interspire to simply manage all the products and orders placed on remote sites without actually selling any products locally. The front end can be completely disabled.
Some clients I have worked with either make use of the Vendor edition of Interspire, which effectively allows them to give Vendors access to the backend of Interspire and upload their own products. When orders are made the Vendors are responsible for fulfilling and shipping their own items. Some clients don't sell any products of their own and simply sell products that their vendors add to the product inventory. Interspire is setup to handle these sorts of stores with no problem, but there currently isn't a very good way to export this data and make the products available on other store front, regardless if the stores or powered by Interspire or another shopping cart software.
This API allows for a storeowner to integrate with other storefronts, regardless of the cart being used without the need to create multiple backend consoles or shopping cart installations. The API creates up to date product feeds on the fly to be loaded into other websites, Interspire or not. So the goal is to allow other websites to sell your products (or products from Vendors you manage). So all orders, inventory levels, product descriptions, etc are sent via a CSV or XML feed to a remote site where the data can be parsed and placed into that stores database. When orders are made on affiliate sites the orders are sent back to the API and the orders are placed into the Interspire backend the same as if orders were placed on the Interspire cart locally. The product inventories are automatically updated and the products feed accurately reflect the new product inventory levels based on the orders reported. When the orders are fulfilled or the status is changed the new status and tracking information for instance is then passed back to the remote site. This seamless integration allows for a single Interspire installation to handle orders form various sites without the hassle of creating multiple product inventories and forcing vendors log into multiple backbend's to manage products and orders. This setup drastically reduces duplication of work and reduces the chances for human error.
The module needs to be customized for each unique scenario but it is setup to communicate with remote sites via CSV and XML formats or by even remotely updating remote databases.
Advanced Reporting Addon
This add-on is a backend-reporting console that allows storeowners to quickly view vital statistics in regards to how their store is performing. All reports have the option to choose date ranges from which the reports generate their data.
Some of the data displayed on these reports is available from the backend of Interspire but this add-on displays all the data is a easy to read format. All reports are sort-able by the various columns to be either ascending or descending.
This add-on is particularly useful when you are dealing with multiple Brands / Vendors and need to keep an eye on the speed and accuracy that orders are being fulfilled.
All reports can be for the most part customized to display whatever data you might possibly need. Whatever report you need, I can most certainly code it to be used with this add-on.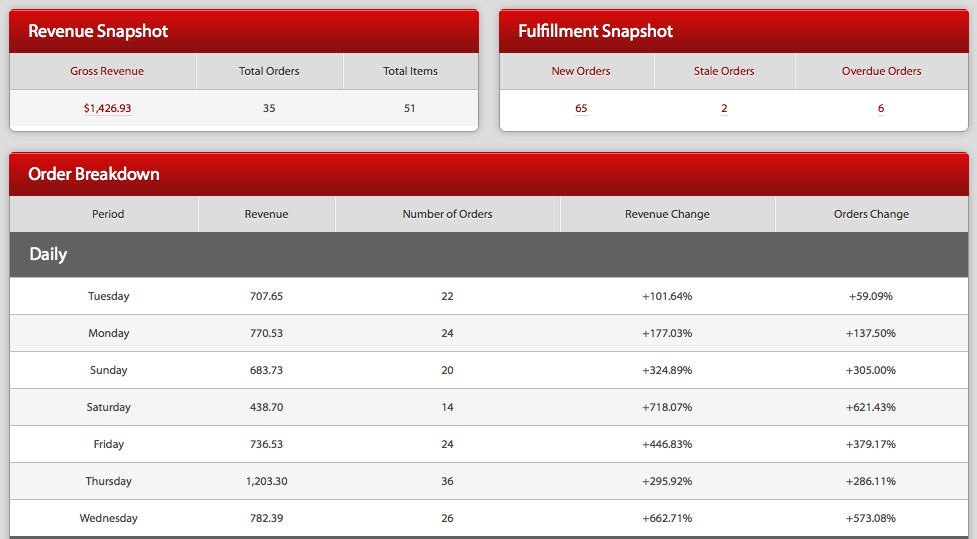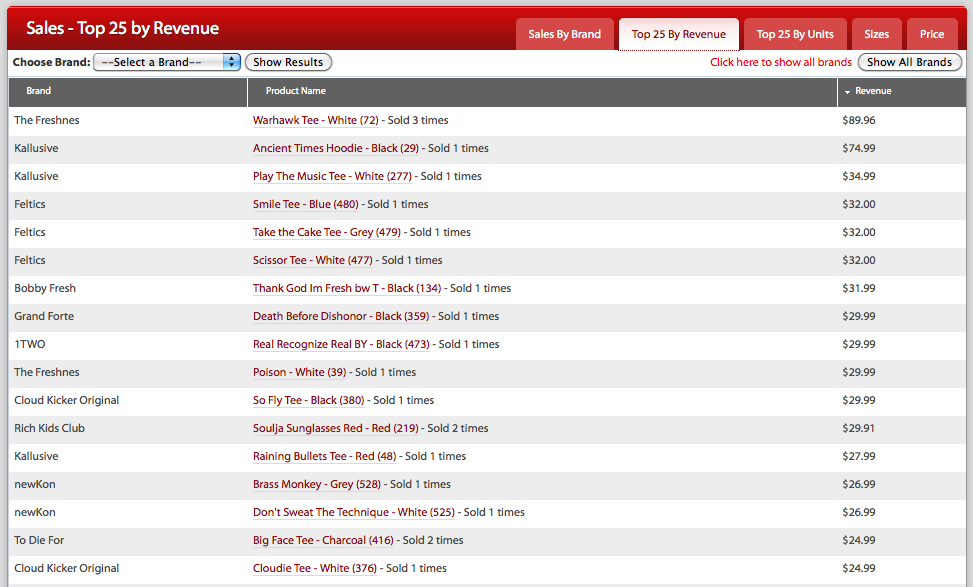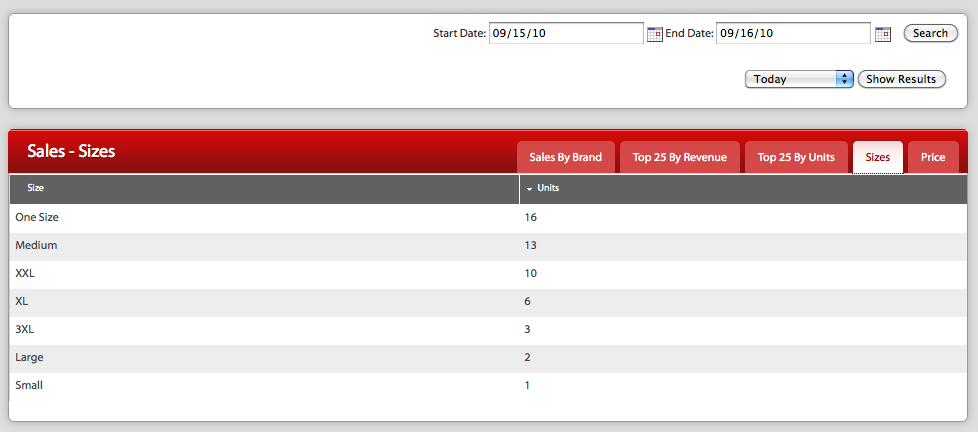 Some of the reports this add-on generates…
Daily Snapshot – This report displays the current daily sales, total orders and quantity of items ordered. Also recorded are lists of all current orders that are new, stale (orders that have been placed X days ago but have still not been fulfilled) and late orders (same as above but older that stale orders). (X is a configurable variable)
Sales by Brand / Vendor – Displays a list by Brand / Vendor of how many products were ordered and the total revenue of the products ordered.
Top 25 By Revenue – This report shows, which products have generated, the most revenue, the total revenue generated and the quantity of items sold.
Top 25 By Units – The most popular products and the amount of the products sold.
Average Processing Speed – Shows the average time is takes for vendors / brands to fulfill orders.
Late Shipments – Shows the number of shipments that vendors / brands shipped late and calculates a percentage of the late orders to total orders.
Fill Rate – Total percentage and number of orders that were placed and fulfilled.
MP3 Media Player for your product pages
Play music files on your product pages! With drag and drop admin panel! This addon allows you to add sample tracks to your product pages. Using a highly skin-able open source player (http://www.flabell.com/flash/Flash-Mp3-Player-29) you are able to create a beautiful player that looks great! The player also has the ability to "Share / Embed" on other website and when the Buy button is clicked the user is directed back to your product page so the user can purchase the item!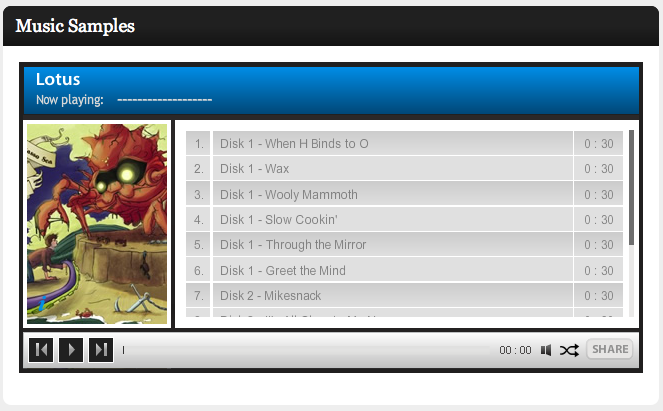 The backend features a robust system allowing you to choose which products you would like to add music to. Simply choose which mp3 files you would like to attach to a product and upload files to your server. You can configure how many samples you would like as well as the titles of each song. After you have all the samples you would like the addon supports drag and drop ordering of the playlist associated with that product. The addon also allows you to assign a image to each album you add. Need to delete or rename a file? No problem, its just a simple click of a button!
Sales Tax Reporting / Sales / Affiliate Payouts
This add-on allows you to generate various reports by state or as a whole to show how much sales tax has been collected in between selected date ranges.
Here is a screenshot of one of our custom reports…